Though we must die, I would not die

When fields are brown and bleak,

When wild-geese stream across the sky,

And the cart-lodge timbers creak.

For it would be so lone and drear

To sleep beneath the snow,

When children carol Christmas cheer,

And Christmas rafters glow.

Nor would I die, though we must die,

When yeanlings blindly bleat,

When the cuckoo laughs, and lovers sigh,

And O, to live is sweet!

When cowslips come again, and Spring

Is winsome with their breath,

And Life's in love with everything-

With everything but Death.

Let me not die, though we must die,

When bowls are brimmed with cream,

When milch-cows in the meadows lie,

Or wade amid the stream;

When dewy-dimpled roses smile

To see the face of June,

And lad and lass meet at the stile,

Or roam beneath the moon.

Since we must die, then let me die

When flows the harvest ale,

When the reaper lays the sickle by,

And taketh down the flail;

When all we prized, and all we planned,

Is ripe and stored at last,

And Autumn looks across the land,

And ponders on the past:

Then let me die.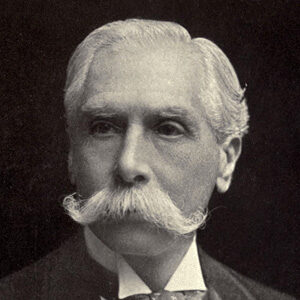 Latest posts by Alfred Austin
(see all)