The lark confinèd in his cage,

And captive in his wing,

Though fluttering with imprisoned rage,

Forbeareth not to sing.

But still the strain, though loud and long,

Is but the mock of mirth,

Not that dawn-dewy nuptial song

That weddeth Heaven with Earth.

Voice that in freedom seems so soft,

Fettered, sounds harsh and rough.

Listen! He shrilleth far too oft,

Nor faltereth half enough.

And I, still feebler it not free,

Do hourly more and more

Grow silent in captivity,

And, if I sing, must soar.

And as the lark's free carol floats

High on a sea of sound,

So let me fling my random notes

To ripple round and round.

Hark! now he shakes the towering skies,

A carillon of light,

Then dwindleth to a faint surmise,

Still singing out of sight.

And, though in clearest light arrayed

The Poet's song should shine,

Sometimes his far-off voice will fade

Into the dim divine.

Then we with following ear and heart

Should listen to the end,

Though we descry may but in part,

And dimly apprehend.

Lo! soon he quits his heavenly quest,

Slow-carolling into sight,

Then, quavering downward, strikes his nest,

Earthward aerolite.

So doubt not, dear, that if I soar

Where none longwhile may dwell,

Though Heaven at times may be my home,

Home is my Heaven as well.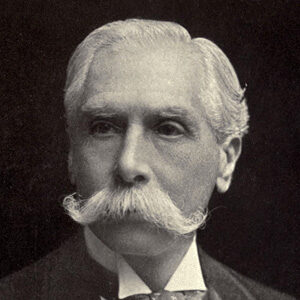 Latest posts by Alfred Austin
(see all)