The Mountains

What ails you, Ocean, that nor near nor far,

Find you a bourne to ease your burdened breast,

But throughout time inexorable are

Never at rest?

With foaming mouth and fluttering crest you leap

Impatiently towards never-shifting beach,

Then wheel, and hurry to some distant deep

Beyond your reach.

Nor golden sands nor sheltering combes can slake

Your fretful longing for some shore unknown,

And through your shrineless pilgrimage you make

Unending moan.

The Sea

Nimbused by sunlight or enwreathed in snow,

Lonely you stand, and loftily you soar,

While I immeasurably ebb and flow

From shore to shore.

I see the palm-dates mellowing in the sun,

I hear the snow-fed torrents bound and brawl,

And if, where'er I range, content with none,

I know them all.

Inward the ice-floes where the walrus whet

Their pendent tusks, I sweep and swirl my way,

Or dally where 'neath dome and minaret

The dolphins play.

Beneath or bountiful or bitter sky

If I myself can never be at rest,

I lullaby the winds until they lie

Husht on my breast.

The Mountains

Till they awake, and from your feeble lap

Whirl through the air, and in their rage rejoice:

Then you with levin-bolt and thunderclap

Mingle your voice.

But I their vain insanity survey,

And on my silent brow I let them beat.

What is there it is worth my while to say

To storm or sleet?

I hear the thunder rumbling through the rain,

I feel the lightning flicker round my head;

The blizzards buffet me, but I remain

Dumb as the dead!

Urged by the goad of stern taskmaster Time,

The Seasons come and go, the years roll round.

I watch them from my solitude sublime,

Uttering no sound.

For hate and love I have nor love nor hate;

To be alone is not to be forlorn:

The only armour against pitiless Fate

Is pitying scorn.

The Sea

Yet do I sometimes seem to hear afar

A tumult in your dark ravines as though

You weary of your loneliness, and are

Wrestling with woe.

The Mountains

When the white wolves of Winter to their lair

Throng, and yet deep and deeper sleeps the snow,

I loose the avalanche, to shake and scare

The vale below.

And, when its sprouting hopes and brimming glee

Are bound and buried in a death-white shroud,

Then at the thought that I entombed can be,

I laugh aloud.

The Sea

I grieve with grief, at anguish I repine,

I dirge the keel the hurricane destroys:

For all the sorrows of the world are mine,

And all its joys.

And when there is no space 'twixt surf and sky,

And all the universe seems cloud and wave,

It is the immitigable wind, not I,

That scoops men's grave.

I wonder how the blast can hear them moan

For pity, yet keep deaf unto their prayers.

I have too many sorrows of my own,

Not to feel theirs.

And when the season of sweet joy comes round,

My bosom to their rapture heaves and swells;

And closer still I creep to catch the sound

Of wedding bells.

I see the children digging in the sand,

I hear the sinewy mariners carouse,

And lovers in the moonlight, hand-in-hand,

Whispering their vows.

You in your lofty loneliness disdain

Suffering below and comfort from above.

The sweetest thing in all the world is pain

Consoled by Love.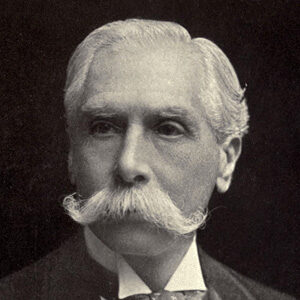 Latest posts by Alfred Austin
(see all)